Wilckens Woodworking is a small family own business that has been providing fretwork designs for over 20 years. Our goal is to provide a quality pattern and the support you need to build fretwork projects that you can be proud of. Our designs range from simple to very complex….clocks from 4" tall to 9' 6" tall. We provide a verity of projects including but not limited to, clocks, mini clocks, boxes, shelves, crosses and ornaments.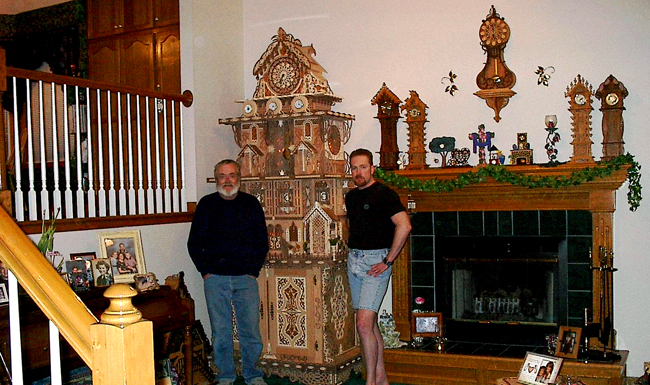 One of the things that we have prided ourselves with is one day turn around on your orders. Recently we lost Dad who was retired allowing this to happen. With the rest of us having full time jobs we will still strive to make this happen. Initially please be patient with us until we can work out the kinks in our new system, but please know that we intend to provide the best support we can, this is very important to us. We will be limited to support calls between 6:00 pm and 9:00 pm (Central US time) but you may always leave a message and we will return your calls as soon as we can.
Initially we will provide patterns for purchase but in the near future we intend on having a free monthly pattern and down the road we plan on providing a larger clock, providing a new piece or two every couple of weeks. We also would love to have photos of your projects of our designs on our brag page so that your fellow Scrollers can see them. We want this site to be a site for all of us.
Dad always said that 'We don't have Customers….We have Friends'. We have adopted this as our Mission Statement and will strive to do our part. Please join us in our secondary mission of making Fretwork the most popular discipline of woodworking that it can be and to populate the world with beautiful pieces built by the many talented people who love it and to help the next generation to appreciate it as we all do.

RECENT SATURDAY UPDATES
Blog Taking A Break
First and for most, I would like to extend a thank you from me and everyone here at Wilckens Woodworking for you reading our weekly blog, the Saturday Update, and keeping up with us as we strive to bring you the best fretwork designs around. Now to the point, for the time being we will no longer post the weekly update on the website/blog. The Saturday Updates will still continue, but in their original email form. So, if you are not signed up for the email updates and you would like to receive them, just shoot over an email to dan@wilckenswoodworking.net saying that you would like to be added to the Saturday Update emails. Thanks again and we hope you will keep up with us.
….keep the saw dust flyin'.

Saturday Update 10/19/13
Hello….hope everyone had a good week last week and an awesome Saturday. It was a chilly start here but warmed up comfortably. Started off my day by stopping in at Metro for the wood to start the next clock. I am starting on the Bechthold Clock Which was designed back in 2007 for a good friend of Wilckens Woodworking….Wayne Bechthold. Whenever we name a clock after someone we let them cut the first one….and I never heard from him again after that (the design isn't that bad) and the design kinda slipped between the cracks and just resurfaced here recently. I also forgot my shop key so Tam had to run it out for me. Thanks Tam….
The new clock is a pretty large clock…the floors are 12″ x 18″ and it is 40″ tall. So after digging up the patterns this week I scoped it out and it is gonna take a lot of wood so I started thinking about what I wanted to do. Well I dreamt about it all night and cut it out of the 1/4″ Hickory MDF plywood good both sides. So I checked it out and they had an incredible sheet so that is what it will be made of….dreams know best. The plus' to using this plywood…other than it looks good….it is stable with very minimal warp, it cuts like hot butter and the MDF interior takes finish really good and darkens up just darker than the vernier so it actually makes the fretwork stand out. All the exterior edges will be covered by hardwood brackets. All this saved me quite a bit $$$ and time in preparation….I would have had to do glue ups on ALL the fronts and backs. The minus' are that you have to be careful sawing it (run tape along your cut line to minimize splintering of the vernier) and sanding. It is so easy to sand through the vernier. I was able to prep all the primary wood pieces today and the 2 floors and get all my patterns put on….so now it will be serious sawing for a few days. I'm excited to get going on this one….really fun fretwork!

Saturday Update 10/12/13
Hello….hope everyone had a great Saturday and a good couple of weeks. It was a beautiful fall day here today with temps in the mid 70's and a nice breeze. Over the last couple of weeks I was able to get all my homework cut out which was all the remaining pieces to finish up the Kellar Clock.
Started the day out by stopping into Metro Hardwoods and picking out a couple of pieces of wood for a friend. If anyone is interested, that is something I will do for you…hand pick out any wood you may want. It is on the way to the shop and I stop in most Saturdays anyway. That is one of the little extras we do for our friends of Wilckens Woodworking. But you have to pay for it yourself…   🙂
(more…)

Thank you for visiting our website, feel free to look around and to contact us with any questions you may have.